Lakeland Village Campus Emergency Power System Study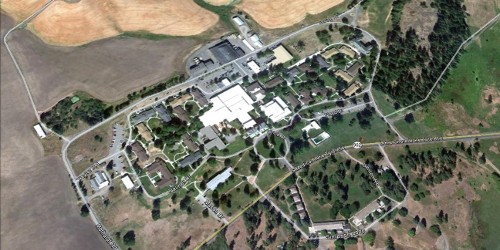 LOCATION: Medical Lake, Washington
CLIENT: Washington State, Department of Social and Health Services
DELIVERY METHOD: N/A
PRIME CONSULTANT: Apollo Solutions Group – Spokane, Washington
SERVICES PROVIDED: Electrical Consulting
DESCRIPTION: Lakeland Village is a state operated 24-hour facility with 52 buildings that provides all facets of training, education and health care for about 250 individuals with developmental disabilities. Lakeland Village is federally certified for 60 Nursing Facility (NF) beds and 190 Intermediate Care Facility/Mental Retardation (ICF/MR) beds.
The existing generator backed power system consists of a single emergency generator routed thru a step up transformer to feed a 15kV automatic transfer switch. The switch feeds a primary loop system with associated pad-mount transformers. Individual transformers are aggregated to serve multiple buildings and loads.
While this is one of the most efficient means of distributing generator backed power across the campus, unfortunately, it no longer meets current code, especially when buildings with different classifications are connected together. This study reviewed the existing campus generator backed power system, determined load calculations of the existing system and individual buildings, provided recommendations to bring each building up to current code, and provided budgeting for upgrades based upon the recommendations.
Multiple scenarios for replacement of the generation equipment were considered including utilization of distributed generation across the campus, utilization of a single generator, with different transfer switch configurations, and utilization of paralleling equipment with multiple generators for redundancy.