Providence Holy Family Hospital, Surgery and Oncology Addition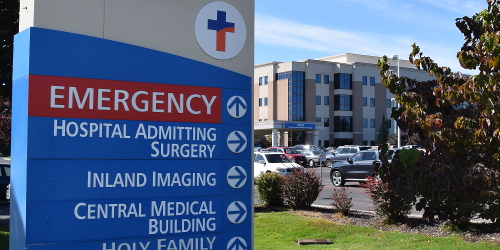 DESCRIPTION: This project included a 42,000 square foot expansion of the surgery suites, new pre-operative and phase 2 post-operative facilities, and a remodel of the Oncology Department. In addition, a new 4 story, 66,000 square foot medical office building was interconnected to the Oncology Expansion.
Electrical design included extension of existing normal and emergency power systems, extension of the existing fire alarm and nurse call systems, lighting, grounding, and provisions for future data/telephone, security, and CATV systems.
Modifications were made to the existing central plant equipment including addition of a new chiller and supporting equipment (cooling tower, VFD's, chilled water pumps, and machine room emergency ventilation equipment); and modifications to the existing hot water heating systems including addition new pumping equipment and VFD's.
Special design challenges included designing the Holy Family Catheterization Lab upgrade which utilized the same systems as the Surgery and Oncology Expansion as well as maintaining continuity of operations for the Catheterization Lab during the upgrade.
LOCATION: Spokane, Washington
FACILITY SIZE: 108,000 Square Feet
CLIENT: Providence Holy Family Hospital
DELIVERY METHOD: Design-Bid-Build (DBB)
CONTRACTOR: Bouten Construction – Spokane, Washington
ARCHITECT: NAC|Architecture
SERVICES PROVIDED: Electrical and Electronic System Design